Thoman's IGA
Recipes
https://thomans.iga.com/Recipes/Detail/4299/White_Bean_Chicken_Chili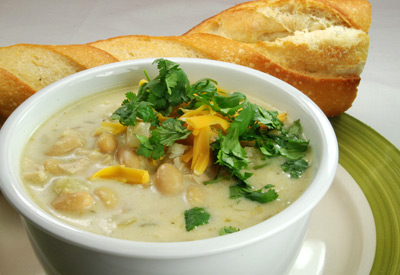 White Bean Chicken Chili
Customer Rating:
7 Ratings 6 Comments
Yield: 4 servings
Directions:
1. Heat oil in Dutch oven over medium heat.

2. Add chicken to pan and season with pepper and salt if desired. Saute approximately 5 minutes.

3. Add onion, garlic, cumin, oregano and dried red pepper. Saute 5 minutes.

4. Drain and rinse beans.

5. Add beans, broth, chilies and sour cream to chicken. Simmer until chicken is tender and cooked through, about 10 minutes. Ladle chili into bowls. Top with cheese and sprinkle with cilantro.
Recipe, photo and food styling by Webstop

Can be prepared 1 day ahead. Cover and refrigerate. Reheat before using.
Please note that some ingredients and brands may not be available in every store.
Thoman's IGA
Recipes
https://thomans.iga.com/Recipes/Detail/4299/